BARNACLE BILL'S Amusements will be hosting the 1st ANNUAL LIGHT OF DAY MINI GOLF CLASSIC
Title Sponsor: Blue Raven Entertainment
Course Sponsors: The law firm of Ansell, Grimm & Aaron, Tim McLoone's Supper Club and The Robinson Ale House, The Leon Hess Business School- Monmouth University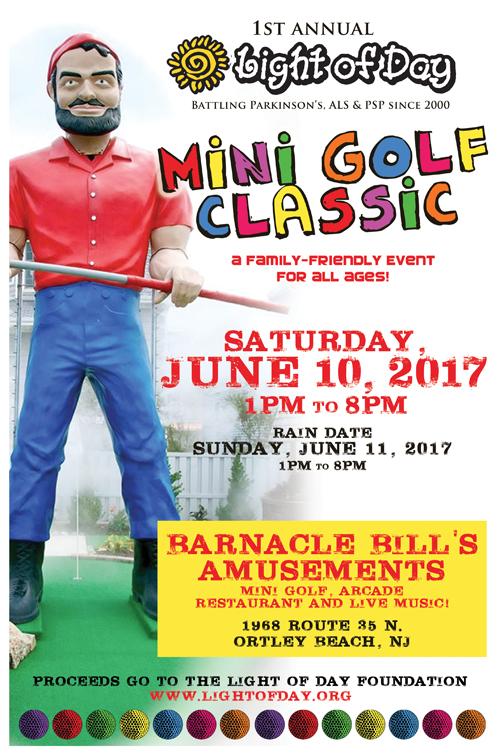 **Barnacle Bill's Amusements, 1968 Rt 35N, Ortley Beach, NJ will be hosting the 1st Annual Light of Day Mini Golf Classic this Saturday June 10, 1-8pm! (Rain date, Sunday June 11) Prizes, Live Music, Arcade, Restaurant and of course, miniature golf! Barnacle Bill's is known as one of the Jersey Shore's most iconic mini golf courses and arcades for the entire family. There will be hourly "Low Score" prizes, "Hole in One" prizes, access to the arcade and food and beverages at Barnacle Bill's Cafe and of course, as at any LIGHT OF DAY event there will be LIVE MUSIC! Admission to the mini golf course is $10 per person and $35 per family of 4. Pay at the door.
**Performing at the Mini Golf Classic:
1:15pm - The Elk-Ward Duo (featuring Scott Elk and Kyle Ward)
2:00pm - Tess & Chloe (featuring Tess McDougal and Chloe Hoban)
2:40pm - Emily Grove
3:30pm - Lauren Gill
4:10pm - Laura Crisci
4:50pm - Georgia Owen
5:30pm - The Wonderful Winos featuring original @Bruce Springsteen & The E Street Band drummer and Rock and Roll Hall of Fame inductee Vini Lopez and Gary Cavico
6:20pm - Arlan Feiles
**The Light of Day Foundation is a New Jersey based 501 c3 non-profit, grass roots organization that was founded in 2000
and has raised over $4.5 million in it's battle to find a cure for Parkinson's disease and it's related "parkinsonisms" ALS
and PSP in our lifetime. These diseases are progressive nuerodegenerative illnesses that affect over 1 million adults in
the US alone and there are over 70,000 new cases diagnosed every year. The Light of Day Foundation's mission is to cure
Parkinson's disease, ALS and PSP though support of targeted research organizations and to improve the quality of daily
life of people suffering from these diseases.
LOD Events
There are currently no Events set up.
Our Artists
Light of Day would like to thank all of the performers who have dedicated their talents for supporting our fight against Parkinson's.
View Past Performers